The Cone Collector
RKK  Manual of Living Conidae by Dieter Rockel, Werner Korn, Alan Kohn.
 <![if !vml]>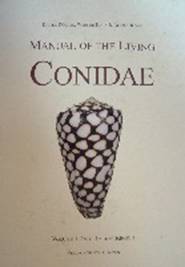 <![endif]>This book published in 1995, covering the cones of the Indo-Pacific, continues to be respected by cone collectors as an invaluable guide. Unfortunately, it is now out of print for several years.
We are pleased to be able to offer a download PDF copy with the co-operation of Dr. Carsten Renker and Klaus Groh of www.conchbooks.de  and the support of the authors.
All rights to publication remain with ConchBooks and the authors.  This electronic copy was created by the Cone Collector website and remains its property . You may download it for personal use but may not republish it in full or part in either printed or electronic form.

<![if !vml]>

<![endif]>
You will find text based copies of the species descriptions section of RKK on the Conus Biodiversity website which provides the opportunity to copy and quote parts of the text.
Downloads
Index  (11mb)
Text pages 1 to 100 (27mb)
Text pages 101 to 200 (30mb)
Text pages 201 to 300 (28mb)
Text pages 301 to 327 (7mb)
Full size version of plates(70mb)   Plates 1 to 73
Smaller file size version of plates  10mb—5mb—10mb
Plates 1 to 20  --Plates 21 to 40---Plates 41 to 73
Note the download is split into sections to provide reasonable file sizes.  You may find it easiest to open the Index, Plates and  species Text files in different windows to allow you to switch easily between the files.
Christopher Roux, Manuel Tenorio, Bill Fenzan and Gavin Malcolm have all contributed to making this Cone Collector version available.
A larger file version is also available(120mb) which has a single PDF file. This version has embedded links in the pages which allow you to move back and forward between index , text and relevant plate. 
The links in this version have been tested and work with Adobe Reader on both Microsoft and Apple platforms. However there may be problems with the links if you are using other software to read PDF files.
In using this version, you can return to the index using bookmarks or by using the View plus Page Navigation tab to go to first page.
Alain Robin created this version and made it available.